Industries We Serve We have been catering to various industries by supplying the standard and customized process control instruments and systems to meet and satisfy their requirements.
Our products are widely used in the following Industries:
---
Engineering
Libratherm has supplied various types of temperature controllers, thyristor power controllers and control panels to the industries manufacturing Files, Diamond Tools, Machine Tools, Automobile parts, Hack saw blades, Stone cutting tools and circular blades etc… The temperature of the electrical or fuel fired heating systems, used for annealing, hardening, steam bluing and similar such processes, has been in use for precise control up to 1200-C, using our models PRC-300, PRC-309, PID-300, PID-723, DLC-301, POW-3/S and POW-3/D with the sensor input from thermocouples or infrared non contact sensors.
---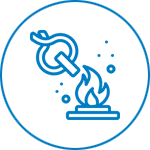 Furnaces & Ovens
Libratherm has been supplying various types of temperature controllers and thyristor power packs for small and large furnaces and ovens. Our models DTC-300, TPC-10, APID-10 are in use for controlling the temperature of the laboratory ovens and furnaces in the range of 0- to 1000-C. Our models PID-300, PID-723 are in use for controlling the temperature of muffle furnace, hardening furnace, annealing furnace, tampering furnace, vacuum furnace in the range of 1000- to 2000-C. Wherever controlled rate of heating and cooling is required in the furnace, our models PRC-300 and PRC-309 are widely in use for achieving ramp/soak function in the heating cycle.
---
Glass
For this industry – Libratherm has supplied ramp/soak program controller model PRC-309 along with the thyristor power pack for glass softening and curing furnace. The model PRC-8000 and thyristor power pack POW-1, along with the ready to use control panel and computer interface has also been supplied for controlling bigger size furnace with six thermocouple sensors for glass bending and fusing applications.
---
Heat Treatment
Libratherm has been supplying various temperature controllers and systems for this industry. Our model PRC-300, PRC-309 is in use for annealing, hardening and tampering cycles. Our model PRC-301 is specially designed for carburizing and nitriding heat treatment cycles. We have developed some special models for this application. Our model PRC-8000 is widely used for the pre and post welding heat treatment applications – where the large jobs are welded and locally heat treated with six to eight thermocouples welded along the length of the welding joints. The desired ramp/soak cycle with auto hold and synchronization of all six to eight zone is achieved using this model.
---
Jewellery
Libratherm has been supplying various types of instruments to the OEM of Jewellery making machineries. Our temperature controllers model PRC-300, PRC-309, PRC-310, PRC-311 and PRC-315 along with single and three phase thyristor power pack are in use for Wax Burn out furnace for investment casting. Our other models DTC-302, DTC-300 and PID-300 are in use for Gold/Silver melting furnace, dust burn out furnace, Vulcanizer and Wax injectors.
---
Packaging
Libratherm has been supplying various types of temperature controllers, DC motor controllers and Timers/Counters for OEMs manufacturing machines for heat sealing, blister packaging, bottle filling, thermoforming, etc. Our Temperature controller models TPC-10, DTC-300, etc are used for precise temperature control of small low wattage heaters in the machines. Our Multi-loop PID controller Model PID-8000 has been used for controlling the temperature of the large and on line bottle washing conveyor machines using the water, incorporating steam heating systems, where six solenoid valves are controlled to maintain a precise temperature.
---
Petroleum
For laboratory use Libratherm has supplied PID and time proportional controller for oil bath used in viscosity measurement to precisely control the temperature at 40.00-C and 100.00-C. PID-300 and APID-10 are used for 0.1-C control, whereas PID-2000 is used for 0.01-C guaranteed control. Other controllers in use are APID-10 for chilling bath and laboratory ovens. HTC-3003 for stability chambers..
---
Pharmaceutical
Libratherm has been supplying standard and special purpose instruments to the OEMS. For FBD, Tablet Coater, Autoclaves, Drying Ovens etc. Our models LTR-4001, PRC-8000, POW-3/S, and UTC-401 are regularly in use for these applications. For stability chambers and BOD incubators our model HTC-300, HTC-3003 and PID-300 are used by OEMs and actual users.
---
Power Generating
Libratherm has been supplying data loggers model DATALOG-16 to monitor the winding temperature of various power transformers in the power plants. For wind turbines – we have supplied the control panel comprising our eight-zone programmers PRC8000, three phase thyristor power packs, RPM meters, safety temperature controllers, AC drives etc. to control the temperature of the large baking ovens being used for curing the wind turbines rotors and stators. Our model PRC-8000 along with thyristor power pack have also been in use for controlling the average temperature of the aluminum V profile embedded on the blades of the wind turbine and for fixing the spoiler (extended portion) on the blade by accurately controlling the average temperature.
---
Sponge Iron
We offer some of the instruments for this industry, which are used for Kiln used to produce the sponge iron. Our 16 channel scanner model DATALOG-16 is used to monitor the temperature and pressure at various locations in the Kiln. Our two wire isolated field mounted loop powered transmitters model LTX-3000/WI are used to covert thermocouple and Pt-100 signals to equivalent 4-20mA. Our Pressure Indicators DPI-12, Temperature Indicators (DTI-12), Isolator and signal multiplier (ISM-10), 24VDC power supplies are also used in the control panel of the Kiln operation.